The blog post was written by Elena Rossi, Student Lead on the Medieval Student Experience Project at Queen Mary, University of London.
Today, the collegiate system is normally only associated with the universities of Oxford and Cambridge, with many tourists flocking to see these renowned institutions. Colleges emerged during the medieval period as self-governing communities of scholars with their own accommodation and privileges. Whilst today colleges house undergraduate and postgraduate students, this was not the case for medieval universities. This blog will consider the various types of colleges that were found throughout medieval Europe, following John Fletcher's valuable typology.
Colleges for Poor Scholars
The most common type of college was designed to inspire scholars of a low financial income to pursue a higher subject. The higher subjects – law, theology and medicine – were postgraduate degrees and colleges were normally reserved for students studying these subjects. There were few spaces for undergraduate students studying the arts within these institutions, except for a few, including Ave Maria College, Paris, and some later medieval colleges at Oxford and Cambridge. University education could be extremely expensive and many scholars did not even pursue higher education to earn a degree. The earliest example of a college at a European university was the Collège de Dix-Huit, Paris, founded in 1180, for 18 theology scholars. In return for performing religious duties, the students were given accommodation and financial support. These colleges became essential for supporting poor students. Another example of this type of college was Peterhouse College, Cambridge, which would only accept 'needy' students who had a bachelor's degree. The college provided accommodation and financial support, which would help poor scholars study for a degree without the fears of being unable to care for themselves.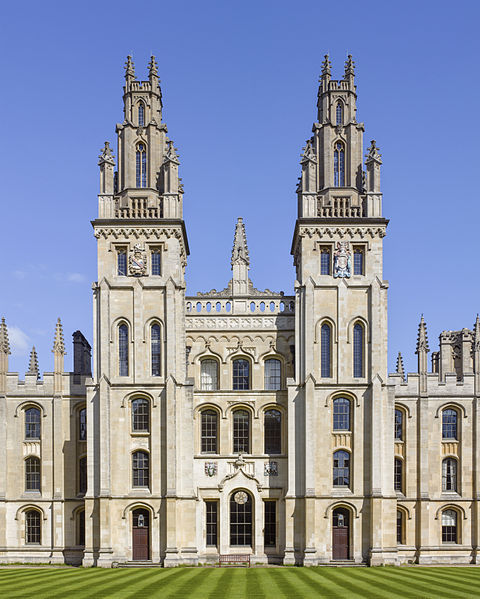 Colleges for Teachers and Masters
Colleges for teachers were less common, but they developed in areas where there was an increased demand and respect for masters within the local community. They were typically found in the Holy Roman Empire, where masters were of the rank of state officials. Their importance within political life would have encouraged such colleges. In 1390, the chancellor of Heidelberg founded a Collegium Artistarum for 12 masters. By contrast, following the Hundred Years' War, there was a shortage of teachers in England and France, so colleges for masters were founded for recruitment. This included Henry Chichele who founded the College of All Souls, Oxford, in 1443. Today, it is still reserved for fellows. The war made countries aware of the importance of scholars and led to an increasing foundation of colleges for teachers.
Colleges for Religious Orders
Religious orders established colleges for their own brethren to support their high education, but this only took place if they needed to travel far to attend a university. Typically, members of religious orders would reside in a monastery, such as in Paris, making this form of college a rarity. Most colleges excluded members of religious orders in their statutes, including the Spanish College, Bologna. There was little need to accommodate for these scholars, as their religious order provided for them. However, some required to travel far for their education, such as in England where there were only two universities, forcing religious orders to establish colleges within these distant institutions. At Oxford, there were colleges founded by the monks of Canterbury, Worcester and Durham. On the Continent, there was a decline in studying abroad following the addition and localisation for universities. Yet, England only had two universities up until the 19thcentury, following Henry III's suppression of the University of Northampton. Religious orders in England established these colleges out of necessity, but this was not the norm throughout Europe.
Regional Colleges
Regional Colleges were used to encourage foreign students to take part in studies abroad. Universities were valued as a place of learning and patrons wanted to send students abroad so they could return to their native country and share their knowledge within their community. The Spanish College was founded by Cardinal Gil Albornoz for 30 students – 8 studying theology, 18 canons and 4 pursuing medicine. The statutes stated that 'Spaniards only should live in the house' and Albornoz endorsed students form areas he had connections with, such as Salamanca. Most colleges only recruited students from certain towns or parishes that were connected to the founder, such as students from Winchester for Merton College, Oxford. Furthermore, more provincial universities appeared in Europe in the fourteenth century, leading less scholars to travel for their education. Universities used colleges to inspire foreign students to study abroad as they had frequently done in the 12th and 13th centuries. Regional colleges provided a community for foreign scholars and encouraged more students to study abroad.
College-Universities
College-universities were developed in areas where a university could not prosper on its own. These institutions were a fusion of the university and college, such as in the German and Scottish universities. Fletcher acknowledges that these were for areas where resources were barely adequate, recruitment was problematic, or where the founder required the institution to perform specific functions; it was convenient to combine the two. Everything in the college-university took place in one building: accommodation for teachers, administration, the chapel, the library and lecture rooms. Examples of these types of colleges is Sigüenza in Spain and Aberdeen in Scotland. The survival of these universities depended on combining the roles of the college and university to ensure the institution could run efficiently within towns of lesser prosperity.
Elena Rossi recently completed her MA in Medieval Studies at Royal Holloway, University of London, and will be starting her DPhil in History at Magdalen College, Oxford, this autumn. She is also a Student Lead on the Medieval Student Experience Project at Queen Mary, University of London. The Project aims to make resources on medieval education available online through a website that will be launching in 2021.
Follow Elena on Twitter @ElenaFranRossi. For the latest news from the Medieval Student project, follow them @MedievalStudent